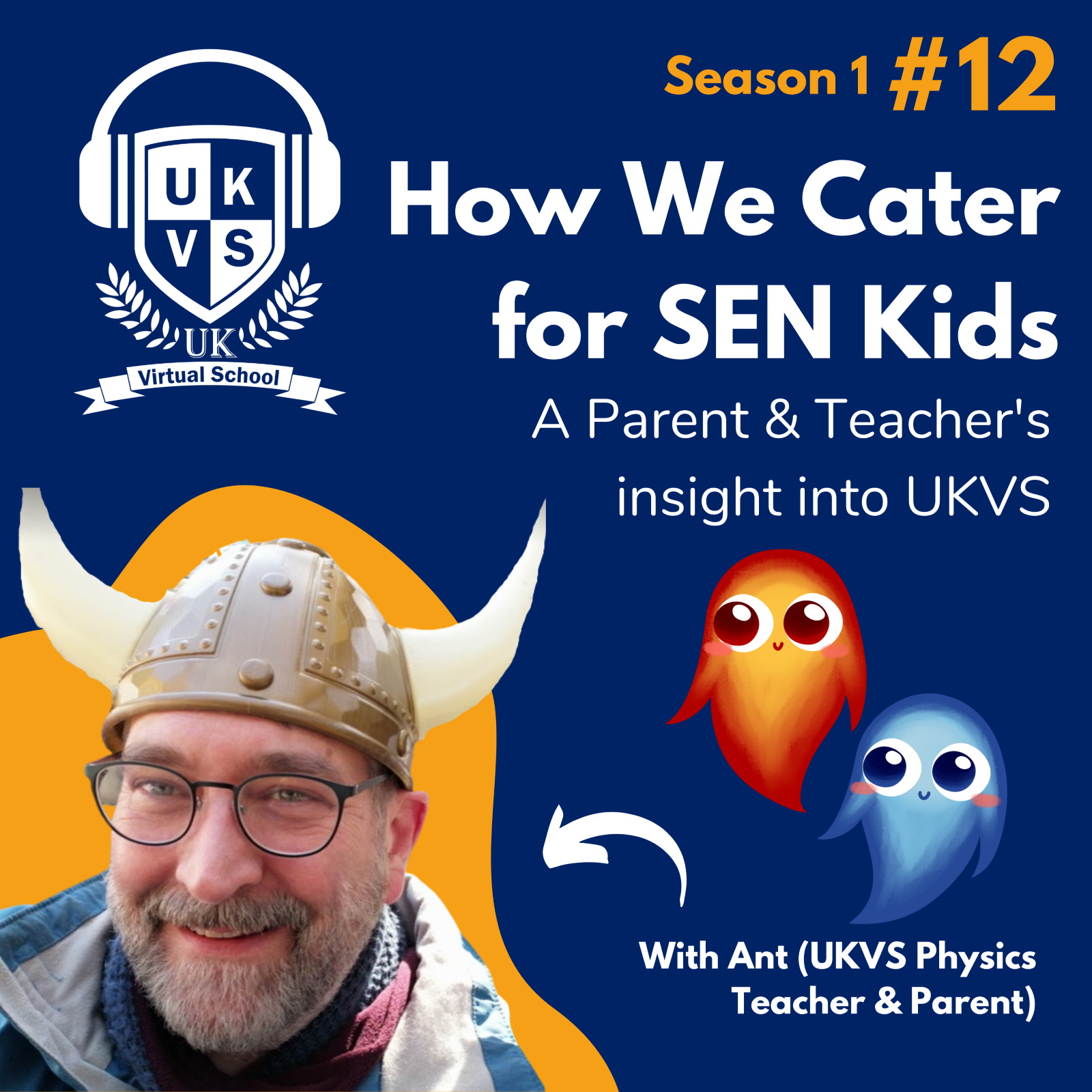 UK Virtual School isn't just any online school – We dare to be different! We offer a flexible online British Education adapted for the modern world, catering for Year 1 to iGCSEs for Home Educating families, Expats, and World Schoolers.
#12 How We Cater for SEN Kids
A Parent & Teacher's insight into UKVS
Ant's been a teacher with UK Virtual School since the start and he's seen it grow into what is today, and loves how it continues to grow. He says on this episode that UKVS "offers subjects to help students grow as people, not just as academic subjects".
As well as being a teacher with the school, Ant has since enrolled his son, Monty. Monty has been diagnosed as being on the Autistic spectrum, and has special educational needs.
During this chat with Syd, Ant talks about many of his thoughts surrounding home school for young people with SEN, including:
How he was concerned initially about how much curriculum material would be covered. After a few weeks, Ant came to realise that this core material was being taught really effectively. Because of UKVS's small class sizes, the teachers got to know Monty really quickly, and can help him to learn in a way that suits him.
How when Monty became unhappy with his traditional school, stopped communicating about it, and at times became disruptive in class, he enrolled at UKVS for a year. The extra support he's been provided with has given him the confidence and strength to make a return to a traditional environment. If this was not to work out; Ant would have no reservations about enrolling him with UKVS again in the future.

How he's really impressed by the core values at UKVS. Ant's worked in other schools and colleges, many of which have "mission statements". He considers the core values and the way they're implemented to be unique.
More about Syd (Our Founder)
Syd is the founder and visionary behind UK Virtual School, which was set up in the peak of the pandemic, when the need for an alternative online education system became far more clearer. Syd has worked extensively with home educating families over the last 11 years and has spent her life in the education sector as a qualified teacher in state, grammar and private schools before settling to work full time on her educational projects, namely Femtinos.
Join us as we explore the core values of innovation, curiosity, growth mindset and inclusion & diversity which are embedded in the fabric of UKVS:
💻 Find us on www.ukvirtualschool.com
📩 Reach out to us: info@ukvirtualschool.com
🔗 Follow us on: https://www.facebook.com/UkVirtualSchool
🤼 Join our FB Group: https://www.facebook.com/groups/291678232050202